{march check-in!}
grab the button below and link up!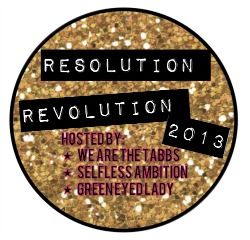 your lovely hosts:
LaNesha @ We Are The Tabbs
Angela@ Selfless Ambition
Carissa @ Green Eyed Lady
So I am a host for the Resolution Revolution…
And looking back on my first post about my resolutions here…
I NEED TO GET IT TOGETHER!!!!
I had three main goals that I have been working on and they are
-Getting Organized and Staying that Way
-Stop Procrastinating with School Work
Well when it comes to school I have been doing a lot better at not waiting until the last minute to get everything done. I havent done so good with my course project but turning in my weekly assignments I have been doing a great job at getting them turned in early.
My weight loss and getting organized are still on my list to get done…I keep falling off the wagon with these two! I try to eat better and I will do good at one meal then totally bomb with another! I'm getting it slowly…
How about you, how are your resolutions coming along???
Please link up with the host to participate!!!